XXXL Crowdfunding XXXL Chichi®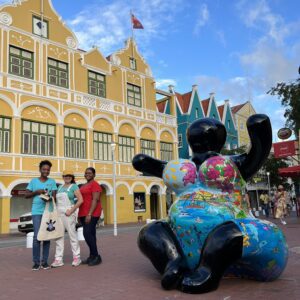 In June 2022 Serena's Art Factory closed their Crowdfunding project with an accomplishment of 70% of their target. They have painted more than 155 illustrations during the crowdfunding and visited 13 locations, where live painting sessions were held. At every location Chichi® was welcomed with open arms and met great new people. Together they showed the world how beautiful Curaçao is. 
Due to the success of the crowdfunding, Serena's Art Factory was able to train and hire new painters and production members:
7 Painters successfully finished their training
24 Painters are in training with payment
10 Production members were hired
Serena's Art Factory is very proud and thankful of this achievement and would like to thank all sponsors and locations for making this possible!! This Chichi can now be admired in Willemstad, Punda.
White XXXL Chichi® at Sandals® Royal Curaçao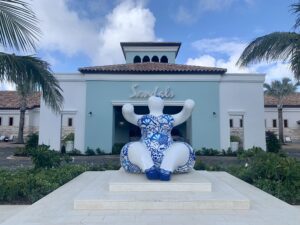 For the opening of Sandals® newest resort hotel in Curaçao, Sandals® ordered a custom made XXXL Chichi® to be located at the entrance of the resort. This Chichi® is especially designed for the resort hotel, Sandals® Royal Curaçao was inspired by the Royal Delft Blue porcelain to outline their brand. Serena designed this with the beauty of Curaçao like cactus, beach, kunuku houses, dolphins and tropical flowers all painted with cobalt blue to represent our Dutch Caribbean roots. This XXXL Chichi® is now proudly welcoming all Sandals® guests with open arms to Curaçao.
Newest Bronze collection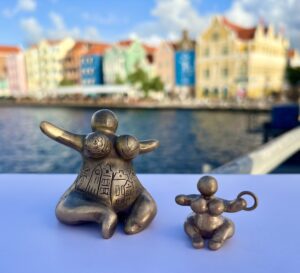 This newest edition of Small Bronze Chichi® has the Handelskade engraved in the front and among other things a dolphin and flamingo in the back. The engravings are made by Serena herself. This bronze Chichi weighs about 470 grams and is 6 cm heigh. If that is not exciting enough Serena's Art Factory also made a Bronze Keychain for the first time! This Chichi® keychain is 3 cm heigh and weighs 44 grams. This piece of Art will never leave your side. Both models are made by Serena, the bronze casting was done in Germany.