Serena Janet Israel – founder
Inspiring • Artistic • Committed
Serena Janet Israel (1971), the creator of the Chichi®, is a professional mould maker, designer, art restorator, artist and art teacher of German origin. She settled down in Curaçao years ago in 2001, after she sailed around the world in a self built sailing boat for an adventurous period of eight years.
Serena leads her own successful Art Factory and Art & Souvenir shop. Together with her team, she produces a wide range of commercial art products, lifesize & bigger sculptures and souvenirs, handmade and hand painted on Curaçao. Of all her products, her Chichis® are the most well known worldwide, which is trademarked since 2008 as a brand.
Serena also runs an art restoration practice, specializing in the restoration of sculptures in plaster and stone, a craft she learnt in Germany and perfected during the years she worked for famous art museums in Berlin. Her clients include churches, museums, commercial companies, nonprofit firms and individuals.
Serena used to lead art workshops at Landhuis Bloemhof, a local art gallery. Since 2014 she organizes open air workshops in the tropical sculpture garden, surrounding her own Art Factory. Here, individuals and groups up to 30 members enjoy painting Serena's souvenirs and art sculptures, assisted by her team. The team at the factory consists of 16 employees, also Serena supervises and teaches more then 82 painters.
Following a passion for color and form
Serena Janet Israel (1971) was born into a creative and loving family of hardworking craftsmen and entrepreneurs in West Berlin. Her family stimulated her to appreciate music, culture and art and from a very young age Serena, the eldest of three sisters, developed a passion for color & form and leadership with a heart. A passion that is easily recognized in her craftsmanship, company values and art works of today.
Inspired by the old craft of casting molds, she joined the formative German Handwerk Fachschule  at the Gipsformerei Staatliche Museen in Berlin at a young age, learning to cast molds from plaster, silicon and  Knochenleim. She continued her studies at the Natur & Völkenkunde Museum of Berlin, taking part in a demanding and full time internship in order to become a professional restaurateur.
After the fall of the Berlin wall in 1989, Serena chose to work in East Berlin practicing restoration techniques and styles typical of the former East Germany. Working for the Egyptian and Pergamon museum of East Berlin by day, restoring famous sculptures of Greek gods and Egyptian Pharaohs, she and her teacher ran their own backyard atelier by night/ weekends, working on commercial restoration assignments for firms.
Sailing the seas and traveling the world
Just before joining the university to earn an academic degree as a restaurateur, her life took an adventurous turn and she decided to travel the world and the sail the seas together with her partner. Their self-made boat was appropriately named 'Momo', after the main character of Michael End's world famous book relating to his specific time philosophy.
Travelling for over four years from Germany to England, Portugal, the Canary Islands, Africa and the Cape Verdean Islands, Serena set sail for the Dutch Caribbean in 2001 and fell in love with the region's bright colors, multicultural atmosphere, and welcoming hospitality. After meeting her beloved partner Ben, she decided to start a family and an art career in Curaçao. Her Daughter Chayen Clemént was born 2003. Proud mother of a girl with two passports Candian and German born on Curaçao.Serena lost in the last 20 years twice her life partners, the father of her Daughter Benoit Clemént in 2011 and Michael Anthony in 2021. Michael Anthony was the love of Serena's live and he was like a dad to her daughter Chayen. Even more than that he was Serena's mentor, guide and motivator. Together they brought Serena's Art Factory NV to higher levels.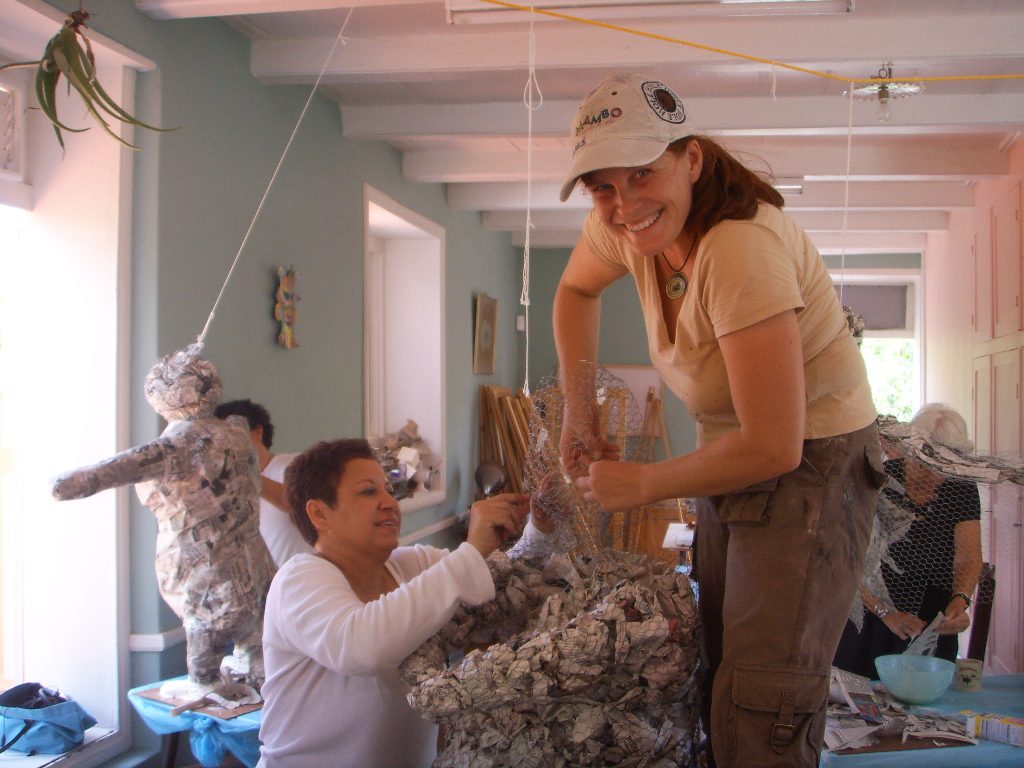 Serena's first Chichi® was born at Landhuis Bloemhof, a well known art gallery, during one of Serena's Art workshops. Wanting to teach her students the art of papier-mâché, she constructed the original chichi form from chicken wire, paper and glue. Later on she molded the ground model in clay and casted a mold using silicon so that she could more easily reproduce these attractive figurines.
Setting up a successful business in art souvenirs and restoration
At first, Serena painted the Chichi's herself, but as demand grew, she expanded her team, including local craftsmen and artists, who shared her creative passion and welcomed the additional income for their families. From then onwards her success grew, leading ultimately to her own Art Factory, shops and outlets in Curaçao and Bonaire and an amazing line of original art sculptures and souvenirs.
In addition to her sculptures and souvenirs, Serena offers professional restoration services as well, working for churches, museums, individuals, profit and nonprofit organizations. She also creates original and customized products for corporations and government institutions, adding a special charm and unique qualities to buildings, festivities and events.
Supporting the community and stimulating others to create
Besides her artistic and commercial activities, Serena provides community support by creating and auctioning objects of art and custom made souvenirs, usually together with specific target groups. These activities help to fund valuable initiatives like fundamental cancer research or empower vulnerable groups like teenage mothers and children in care. Serena was also part of a rehabilitation project with the Curaçao Prison, by providing workshops for inmates. Sustainability is an important pilar of the company, that is also why Serena organizes road clean-ups in her neighborhood. 
By owing your own business you need to have the support of others where you can share knowledge, organizing events together and learn form each other. Serena's Art Factory is a proud member of CHATA (Curaçao Hospitality & Tourism Association) and DMO (Downtown Management Organization) together with these two organizations we show the world the beauty of Curaçao.
You can observe the famous Chichi® sculptures being created at Serena's Art Factory and buy them in the adjoining Art & Souvenir Shop or at the Souvenir Shop in Punda, Willemstad. But if you're fun loving and artistically inclined, we highly recommend you join Serena's lively workshops and paint a colorful Chichi® yourself!