Santa Chichi is back in town. She is situated in our historic city center of Willemstad, part of the UNESCO world heritage site.
She is there to bring joy to passing people, sharing her love and to set a smile on your face!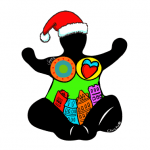 She will be in Punda till January 6th at Gomez plein. To increase the fun she brought a game with her this year.
Join the Quiz and win! 🥇 (CLICK HERE)
It will be easier to answer the questions if you are standing next to her, and of course a picture together is also something not to be missed.
Every 5th subscriber to our newsletter wins a small Christmas ⭐ Star Workshop
Every 10th subscriber to our newsletter wins a big Christmas ⭐ Star Workshop
Most points (answers correct) will win a Chichi 🌴 Ornament
Most original picture will win a medium sized Chichi®:
Upload your picture 📸 with Santa Chichi® on your Social Media.
Tag us so we can find you (be aware of private accounts, make it a public post)
Grab your camera and 🤳 snap it!!!!!
Facebook:
Tag @chichi curacao
#SantaChichi
Instagram:
Tag @chichicuracao
#SantaChichi