More about Seilers Bildgiesserei
Seilers Bildgiesserei is a art foundry located in Berlin, Germany, with a rich history dating back to 1851. Seiler & Siebert now Seilers Bildgiesserei was founded on June 22, 1922 in Berlin-Friedrichshagen by the former employees of the traditional company Gladenbeck, the moulders Willi Seiler and Emil Siebert. Only nine years later Gladenbeck (founded in 1851, 1878 as H. Gladenbeck & Sohn), signed a cooperation contract with the company Seiler and Siebert, which governed the fusion between both companies. Over the years, Seilers Bildgiesserei established itself as a leading foundry, collaborating with prominent artists and participating in prestigious projects. During the early 20th century, the foundry played a significant role in the growing Berlin art scene, casting sculptures for renowned artists like Käthe Kollwitz and Richard Scheibe.
From 1953, the Seiler foundry became one of the most important bronze casting studios in East Germany, producing numerous sculptures for public spaces. In 1974, Kurt Seiler was recognized as an "Acknowledged Artisan" by the DDR for exceptional bronze casting quality. Shortly thereafter, the company was nationalized and state-owned until  the reprivatization in 1990. The Seiler brothers reestablished the company as Bildgießerei Seiler GmbH, surviving financial challenges due to their reputation for quality work and loyal artist clientele.
Despite facing challenges during World War II and the division of Berlin, Seilers Bildgiesserei persevered and continued to thrive as a symbol of artistic excellence. Following German reunification, the company regained its status as a prominent foundry, contributing to the restoration of historic monuments and producing contemporary works of art.
The company's success can be attributed to its unwavering commitment to traditional casting techniques combined with a willingness to embrace technological advancements. Seilers Bildgiesserei has consistently strived to marry the old and the new, preserving time-honored methods while incorporating modern innovations. With the commitment to preserve traditional casting techniques while embracing modern technologies, Seilers Bildgiesserei has remained a beacon of craftsmanship and artistic collaboration. Its legacy endures through generations of skilled artisans and its role in shaping the artistic landscape of Berlin. Today, the foundry stands as a living testament to the enduring passion for art and dedication to preserving the cultural heritage of Berlin and beyond.
Source reference: All information and photos of the Seiler company come from their chronicle, which can be found on their website.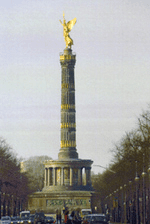 Berlins Siegessäule (Victory Column)
Designed by Victoria  and finalized by Johann Friedrich Drake in 1872
realized by Hermann Gladenbeck in 1873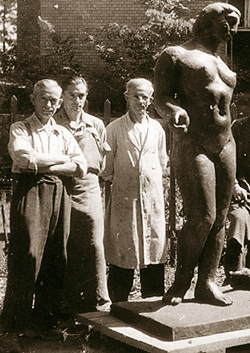 Willi Seiler, Kurt Seiler, Emil Siebert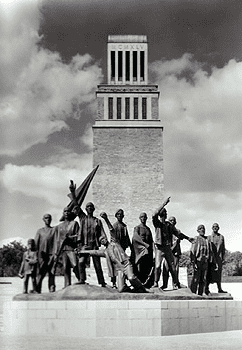 Buchenwald-memorial by Fritz Cremer, early 1950s