Yuchi in Wheelchair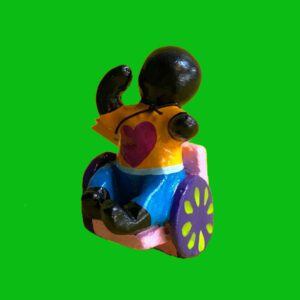 In 2018 the wheelchair Chichi® was created and became an ambassador for inclusiveness within tourism and raising awareness for wheelchair accessibility. As you know Serena nobody can be left out and she designed a Yuchi (Child/ youngest member of the family) in a wheelchair in 2020. Curaçao is a well-known place for Dolphin Therapy for people with a wide range of developmental, physical and emotional conditions. It is wonderful to see, lots of parents have the opportunity to follow this kind of therapy with their child(ren).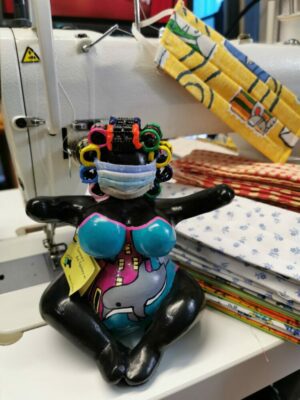 COVID-19
2020 was a year to remember; the world was hit by COVID-19. It changed the way of doing business for Serena as well. We started working from home, working more digitally, selling our products online with worldwide shipment. With the continues travel restrictions due to COVID-19 Serena wanted to give people the opportunity 'to travel to Curaçao' by buying a Chichi® online.
Besides making Chichi's® Serena moved the focus in 2020 to the local market, giving back to the community by more accessible workshops, custom made orders and birthday parties.
The lockdown in 2020 taught the company a lot, being flexible, creative, digital and work from home. More good thing happened during the lockdown in 2020; Serena finally got the chance to create a large laying Chichi®, a beautiful addition to the collection.
Chichi® dives into the blue
Curaçao is beautiful above and under water. Therefore, Go West Diving Curacao, Curacao Dreams Travel & Tours and Serena's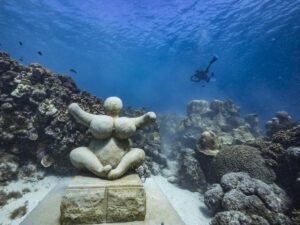 Art Factory bundled their forces and made Chichi® an underwater attraction as well!
In December 2020 it really happened; Chichi® dived into the Caribbean Sea. She can be found a little north west of Playa Kalki at the Alice in Wonderland Reef, next door to the dive shop of Go West Diving Curaçao. She is sitting there with her arms wide-open facing the blue, ready to receive all divers and snorkelers.