After years of being hugged by all her fans, our first large standing Chichi® deserved some extra love. She had only been made with chicken wire, newspaper and a bag of plaster, so to give her more strength, Serena had to fiberglass her completely and use two component paint to make her more durable. Now she is standing in front of our shop in Punda, where her fans can enjoy her for many years to come.
Paint Your Own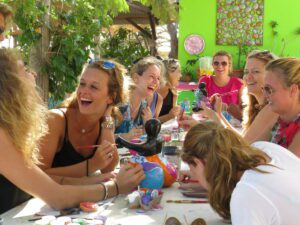 Serena has been giving arts and crafts classes for many years in many different areas, but she never thought to give her clients the opportunity to paint their own Chichi®. Until one day a tv show wanted to film their actors painting their own Chichi®. After the show was aired, Serena received many requests from those wishing to paint their own Chichi. So, she decided to start giving workshops in her own garden. There people could paint their own Chichi® just like the painters, enjoy the company of others and the staff, while getting a closer look at how things happen at the art factory.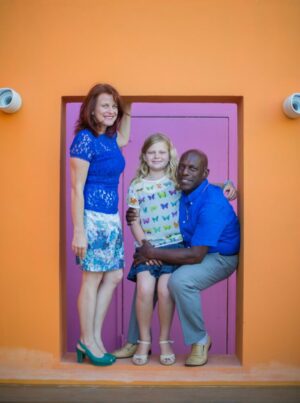 Artist Wedding
Serena married Michael Anthony in 2014. He is a saxophonist, singer and musician born in Trinidad & Tobago. He was there exactly when Serena and Chayen needed his support the most. He strongly encouraged Serena to pursue her dreams without fear, like he always says 'a running horse should never only stand in the stable', he wanted her to keep moving forward. With his support, artistic viewpoints and crafting skills she was able to take Chichi® to higher levels and accomplish what she had not before, while truly bringing more life and love to the art factory.