Scholarship Amarelis Dorand
In today's world, empowerment and education go hand in hand. It is with great pleasure and pride that we share the inspiring story of Amarelis Dorand, a talented young woman whose dreams of a career in the international hospitality and tourism industry are being nurtured and supported by none other than Coca-Cola Curaçao. Her journey from being an intern to a sales representative at Serena's Art Factory, is a testament to her determination, dedication, and the power of education in empowering women.
Amarelis Dorand was studying middle management in the tourism sector, level 4 at Maris Stella SBO. During her final year she applied for an internship at Serena's Art Factory. During her time as an intern at our company, she exhibited a remarkable passion for the tourist industry. Her enthusiasm, coupled with her innate ability to provide exceptional customer service, quickly caught our attention. Amarelis was not just an intern; she was a rising star.
After completing her internship, Amarelis chose to stay with us as a sales representative, showcasing her commitment to learning and growing within the industry. Her dedication and hard work soon became evident in her interactions with customers. It was clear that she possessed the skills and drive to become a true hospitality entrepreneur.
Amarelis's passion for the tourist industry didn't stop there. She graduated from Maris Stella SBO and was determined to get an higher degree in tourism. She had a dream, a vision of making a significant impact on the industry, and she knew that achieving her goals required further education and professional development. This is where Coca-Cola Curaçao stepped in. Amarelis wrote an essay about her passion and dreams to enter the contest for a scholarship at the Curaçao University.
Coca-Cola Curaçao, recognizing Amarelis's potential and her deep-rooted passion for hospitality, made the incredible decision to sponsor her studies in International Hospitality and Tourism Management at the University of Curaçao. This scholarship opportunity not only supports Amarelis in her pursuit of knowledge and personal growth but also stands as a shining example of corporate commitment to women's empowerment and the need for qualified staff in our growing tourism economy on the island.
Focusing fully on her study at the University Amarelis will unfortunately no longer be working with us. We wish Amarelis Dorand all the best in her pursuit of higher education and a fulfilling career in the hospitality industry. May her journey inspire us all to continue supporting and empowering women in every field, ensuring a brighter and more inclusive future for everyone.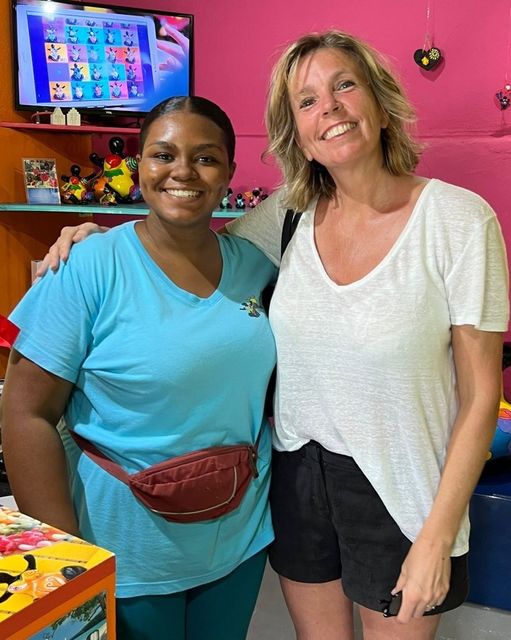 Amarelis with one of our happy Customers.