These Chichi's are especially designed for the Curaçao Synagogue and only available at the Synagogue.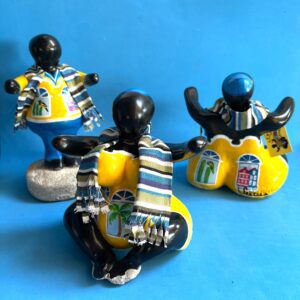 The design is inspired by the remarkable architecture of the building. Through the azure stained glass windows you have a look at Curaçaos' typical landmarks. The sand floors remind congregants "of how its Jewish ancestors on the Iberian peninsula covered the floors of their makeshift prayer houses so that their footsteps would be muffled and the suspicion of potential denouncers would not be aroused."
The Mikvé Israel-Emanuel Synagogue (Hebrew: בית הכנסת מקווה ישראל-עמנואל; English: The Hope of Israel-Emanuel Synagogue), in Willemstad, Curaçao, is the oldest surviving synagogue in the Americas. It is commonly known as the Snoa (short for esnoga, an old Portuguese and Judaeo-Spanish word for synagogue) and is a major tourist attraction in Curaçao.
The community (congregation Mikvé Israel) dates from the 1650s, and consisted of Spanish and Portuguese Jews from the Netherlands and Brazil. In the nineteenth century there was a breakaway Reform community (Emanu El); the two merged to form the present community in 1964. The community is now affiliated with Reconstructionist Judaism.
The synagogue is located in Punda, Hanchi Snoa 29
Monday – Friday
9:00 AM to 4:30 PM* (Last entry at 4:00 PM)
Bron: Wikipedia
​