In September of 2018, Serena's Art Factory introduced a new member to the family, Chochi®, the word in Papiamentu for puppy. This brave puppy will protect and accompany Chichi® wherever she goes. The design of this dog was made to resemble a cute family pet, but also street dogs on Curaçao.

Joining Forces for Inclusiveness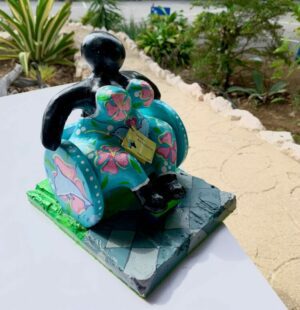 In 2017 Serena's Art Factory became a member of Curaçao Hospitality and Tourism Association (CHATA). One of main points CHATA wanted to highlight in 2018 was experience, they did this by focusing to appeal to different target audiences that are not usually given the most attention. This is an important way to also bring Curaçao forward in tourism in a positive view. In the meantime Serena became an active member of CHATA's activity task force, which focusses mainly on promoting activities that are inclusive to various target groups, such as dolphin therapy. That is why in 2018 the wheelchair Chichi® was created and became an ambassador for inclusiveness within tourism and to raise awareness for wheelchair accessibility.
A Second Chance
Serena's Art Factory was approached by Curaçao Centre of Correction and Detention (CCCD/SDKK) to support their resocialization program. Serena and her team started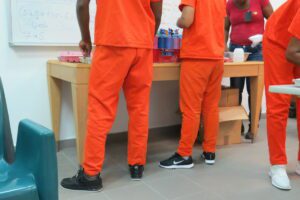 by giving them the same training their usual painters would receive. Once they were able to paint the Chichi® on their own, they could become a part of the regular painting program, which is held in the workshop rooms at their location. Serena and the team are proud of how far they have come to be able to paint such beautiful Chichi® and have been amazed at how positively they took up the challenge.