Bringing the Concept to Life
Other than just making art, Serena had other goals when it came to Chichi®. For her it would also have to be a business, a way for her to support her family while doing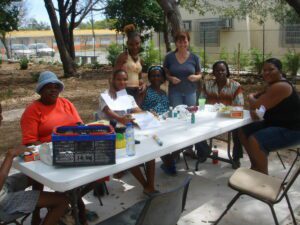 the thing she loves. But Serena did not have any previous experience doing business, therefore with the help of the supportive family at Landhuis Bloemhof, she was able to give an official name to her sculptures, and also a story that would have a strong cultural and historical meaning. 'Chichi' is the Papiamentu word for eldest sister. She brings the family together in a loving and caring way and  is a much appreciated female role model in the Caribbean community of today.
At the time Serena was running a one-woman show. As demand grew, Serena realized that she could no longer do everything by herself. She truly believed in sharing her passion with the community by involving local women and craftsman in her project. That is when she came into contact with her first group of painters, whom were mainly from the neighborhood Brievengat, Curaçao.
Registration of the Brand Chichi® [trademark]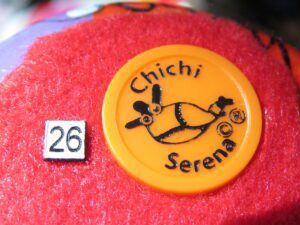 Chichi®  has been a trademark since 2008 when it was registered at the Bureau of Intellectual Property (BIP) in Curaçao. Serena was strongly encouraged by Benoit Clément (Chayen's father) to trademark her Chichi®  sculptures. Because this (brand) trademark would be a guarantee that each Chichi®  sculpture is a handcrafted and authentic piece of art made on/in Curaçao. At the time she even contacted The Niki de Saint Phalle Charitable Art foundation to discuss the image of her Chichi® which were inspired by amongst others Niki's Nanas. The foundation was supportive of Serena's Chichi® development.
Chichi® Reaching for New Heights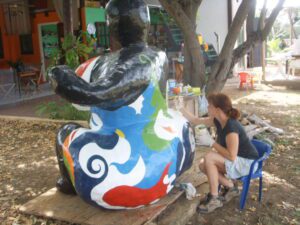 The first human sized Chichi® was launched at one of the most popular tourist beaches, as a special order from one of the first retailers there. This life sized art piece, was carved out of solute foam, which was later covered in fiber glass and painted with two-component paint. It has since moved to many locations. Ten years later in 2019 it proudly sits here at our factory, as the first almost 2 meter tall Chichi®.

A Fun Story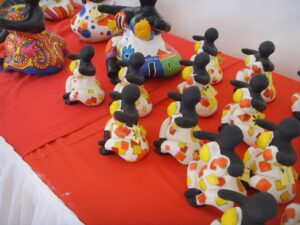 While working on the first live sized Chichi sculpture a neighbor who at the time was a manager at a loyalty reward program company saw Serena. Intrigued the neighbor got into contact with a mutual friend to find out who Serena was and what she did. With the 10 year anniversary of their company coming up, they thought of Chichi® as a perfect client relations present, as it was locally made and represented a cultural history from Curaçao. This was the first time custom made Chichi® were painted to fit the concept of each client's business. This started a new concept for the business, as they realized that they could satisfy a specific need in the market. Since then custom made work has become one of the strong pillars that sustain the business.
Making a New Best Friend
One of our retailers was an art gallery, and in 2008 they were organizing a fundraiser based on one of the local animals from Curaçao, the goat. This exhibition was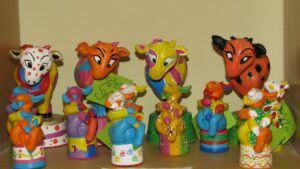 named 'Arte Bèbè Project', and many artists were invited to decorate these live sized goat sculptures made in Europe. That is when Serena got the idea to expand her product line, and Mekki the goat was born, who is actually the best friend of Chichi® and Bubu®. The first 150 goats were painted by children of the organization Kinderoorden Brakkeput, these were later sold at the art gallery and the proceeds went to the organization.