Art & Souvenir Shop
Attractive • Original • Affordable
Adjoining Serena's Art Factory, is her Art & Souvenir Shop. Here you can treat yourself to a great variety of colorful, handmade Chichis® and other souvenirs that come in different sizes and prices. Besides that you fill find and elegant line of hand stitched dresses, bags and hats, perfectly suited to the Caribbean style of life. All items can be paid for in cash, by bank or by credit card and will be carefully packed for transport on request.
*Quality and authenticity of all the handmade products, purchased in our shop are guaranteed by our Chichi ® trademark.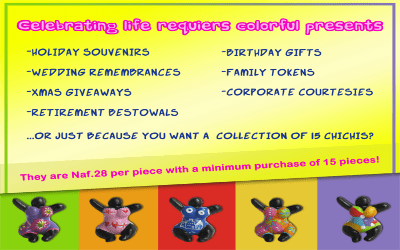 Are you looking for the perfect wedding memorabilia, or a great Xmas present for the whole company? What about a one stop shopping possibility for souvenirs for everyone back home or a business anniversary gift you know everyone will just adore?