Covid-19 and our Business
We all cope with the consequences of Covid-19. It affects our lives, work and business. It has put a hold on our freedom of movement, but we believe with the right measurements we can still enjoy life like we did before. We follow the rules given by our local government and also closely watch worldwide measurements. To protect ourselves, our employees and our visitors is the most important goal.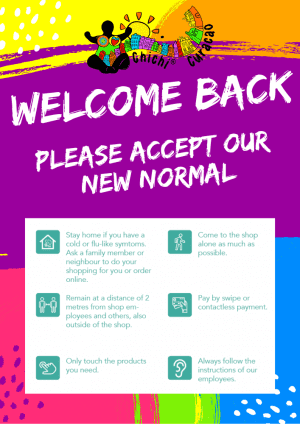 Measurements at Serena's Art Factory and Chichi Shop Punda
Sanitize your hands upon arrival
One way traffic
Keeping social distance of 2 meters
Your are not welcome if you have cold or flu-like symptoms
Max two visitors + one employee in the store
Only touch the products you need
Preferably pay with card
Our staff is obliged to wear a facemask
Max 4 adults (age 12 and up) at one table during workshops
Max of 21 persons (age 12 and up) in our garden at Serena's Art Factory
Max of 8 persons (age 12 and up) at Chichi Shop Punda
Always follow instructions given by our staff
Please adhere to these measurements and we are happy to welcome you back at our Factory and Shop.
Everybody could use the love of a big Sister! Looking forward to see you!