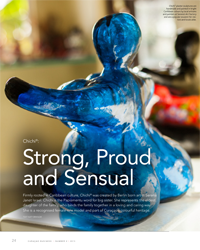 Strong, Proud and Sensual!
CURAÇAO BUSINESS | NUMBER 2 | 2015
Firmly rooted in Caribbean culture, Chichi® was created by Berlin born artist Serena Janet Israel. Chichi is the Papiamentu word for big sister. She represents the eldest daughter of the family, who binds the family together in a loving and caring way. She is a recognised female role model and part of Curaçao ́s colourful heritage.
Text: Katy Branum